---
Sasha Skenderija's Old Home Page
- Back to the actual Home Page -
---
Welcome to my Web Site! You can find some dry info about me in my virtual CV.

>> Work:

>> Research:

MED - the Comparative Media Research Program
and New Media Studies, Charles University, Prague
INVIK-VPK - the Integrated Virtual Library - Virtual Polytechnical Library, the National Library of Technology, Prague

>> Participation in SCH projects: Vril (2002) and Eat This! (2004)

>> Prague Video Stills (Christmas 2004) : Check out

>> When Sasha Was Away For Business... (June-July 2005): Check out - NEW!
---
Contact e-mail address: sasha@skenderija.com


---
| | America | | Ocean | | Cape Cod 2004 |
| --- | --- | --- | --- | --- | --- |
My Guestbook
---
© Sasha Skenderija, 1994-2005
---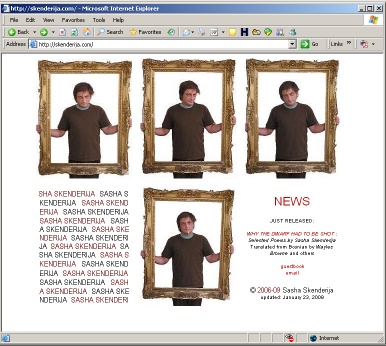 << Back to Sasha Skenderija's Home Page