Photo album
from the
first public reading
at
Winegasm
, June 11, 2011, Astoria NY.
REVIEWS by:
Sandra Zlotrg
(
Linguisti Blog
, Sarajevo, 15. juni 2011. In Bosnian)
Nikola Petković
(
NOVI LIST
, Rijeka, Ponedjeljak, 25.7.2011. In Croatian)
Jasmin Agić
(
Oslobodjenje
, Sarajevo, 23. august 2012. In Bosnian)
---
PREVIOUS RELEASES:
WHY THE DWARF HAD TO BE SHOT
Selected Poems by Sasha Skenderija
Translated from Bosnian by Wayles Browne and others
(Foreword by K. E. Bättig von Wittelsbach; Afterword by Wayles Browne)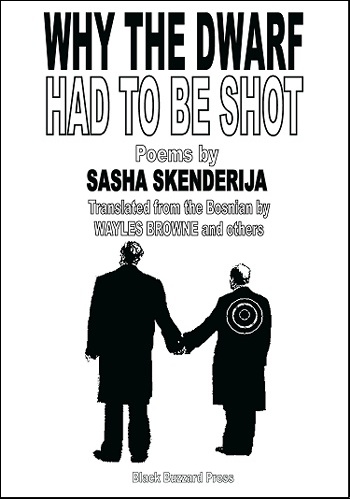 Paperback: 96 pages
Publisher: Black Buzzard Press (Nov. 2008)
Language: English
ISBN-10: 0938872397
ISBN-13: 9780938872399
LCCN (Permalink): 2008931963
OCLC (WorldCat): 310353449
Dimensions: 9 x 6 x 0.3 inches
Shipping Weight: 0.6 pounds
Price: $15.95
Buy at: Amazon.com
[Customer Reviews]
FREE DOWNLOAD


Although he never met the Palestinian-American Edward Said, Bosnian poet Sasha Skenderija shares Said's experience of exile and loss of home due to the redrawing of ethnic and religious boundaries in the country of his birth. For both of these exiles, literature became true home, and a final place of freedom and discovery. Like Said, who was born in the British Mandate of Palestine, now part of Israel, Skenderija comes from a country that no longer exists - Yugoslavia.

The poetry of Skenderija shares many themes with the works of the new generation of Bosnian writers, all living in North America (Aleksandar Hemon, Semezdin Mehmedinović, and Goran Simić): survival of the individual and the community through daily experiences of death and destruction in the besieged city; struggle to maintain human bonds and intimacies amidst the brutality, violence and loss of life; burdens and discoveries of survival, and the feeling of disconnectedness in a life lived in exile; displacement, memory and glimpses of a different, fractured and perhaps newly constituted self; echoes of a new identity in a new, unfamiliar place of being, and - perhaps even more importantly for a poet - in a new language (or in Sasha Skenderija's case, in new languages: Czech and English).

Most of the translations in this volume are the result of a fifteen-year long collaboration between Wayles Browne, professor of Slavic linguistics at Cornell University, and Sasha Skenderija. The poems gathered here range from those Skenderija composed in Sarajevo and Prague in the early and mid-1990s, to the works from his Ithaca period (from 1999 to the present day). The collection replicates the content and the ordering, as well as the title, of Skenderija's volume of selected poems in Bosnian, Zašto je patuljak morao biti ustrijeljen (Tešanj, Bosnia: Centar za kulturu i obrazovanje, 2005). The translations, remarkably attentive both to the sound and the imagery of the original, make some of the best contemporary Bosnian poetry of the adoptive Ithacan Sasha Skenderija available to readers of English everywhere.

Read samples of the poems in the TRANSLATIONS section [English].

The book is available for buying at Amazon.com.

A review (in Czech)
by Adin Ljuca
in Lidové noviny (Prague, February 14, 2009)

A blurb (in Bosnian)
by Amir Brka & Dragan Marijanović
in Oslobođenje (Sarajevo, March 25, 2009)

February 14th, 2009:
POEMS NOT ONLY ABOUT LOVE
on Valentine's Day at the Bookery II
: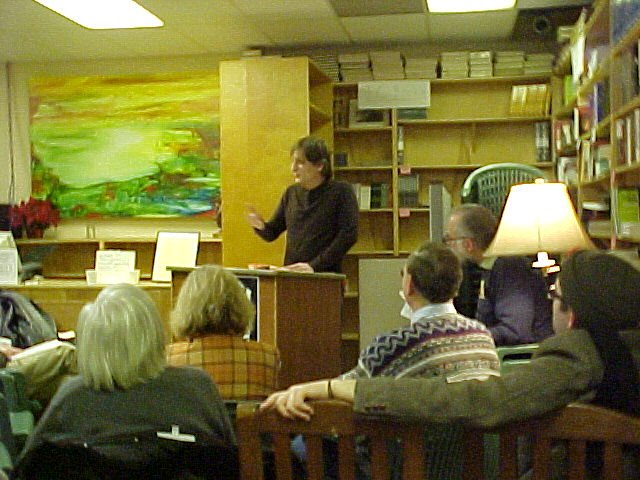 [Photo Album]

The BOOK FIRST PUBLIC MULTIMEDIA READING
at Pixel Lounge (Ithaca, NY), December 13, 2008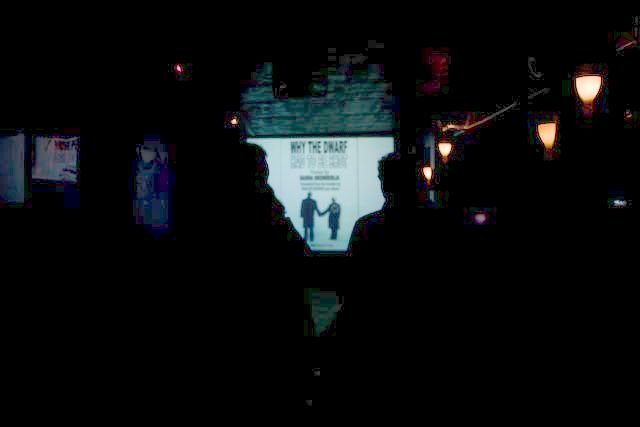 [Photo Album]

Closing video performance from the Pixel Reading:


SHARING INSPIRATION,
an article about the December 13th Pixel Reading at the Ithacan Online (February 12, 2009).
Zašto je patuljak morao biti ustrijeljen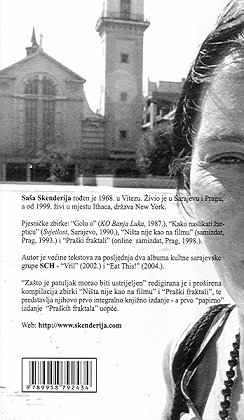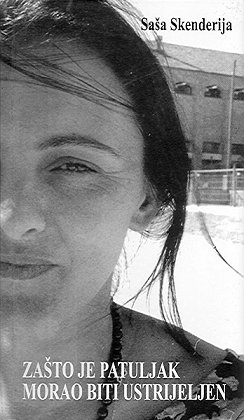 Library of Congress Online Catalog: LCCN Permalink
WorldCat: OCLC Record
Reviews by:
CHECK OUT THE VIDEO OF SASHA READING HIS FINAL PRAGUE FRACTAL (2006):



A LIGHT INTERVIEW WITH SANDRA ZLOTRG FOR OMNIBUS - March 2006 [In Bosnian]



A TV Clip:

<
from the Book First Reading at Buybook (Sarajevo, July 4th, 2005).



---
DOWNLOADS, TRANSLATIONS, BONUS:
FREE DOWNLOAD
DISCLAIMER
Users may make one hard copy of any poem for personal use.
Users may make one electronic or magnetic copy for personal use or research purposes, in addition to such copies normally made by browsers to cache.
Copying, printing, compiling or using for any other purpose without explicit permission may constitute a copyright violation. Please direct all enquiries to sasha@skenderija.com.
© Copyright 2021 by Sasha Skenderija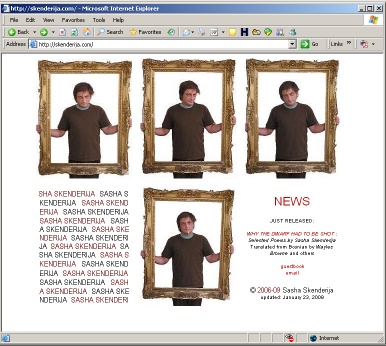 << Back to Sasha Skenderija's Home Page